Double wall glass cups, also known as double-walled glasses, are a type of drinking vessel that is designed with two layers of glass separated by a small gap. The gap between the two layers of glass creates a vacuum, which provides insulation to keep hot drinks hot and cold drinks cold for a longer period of time than traditional glasses.
The double wall construction also makes these glasses more durable and resistant to breakage than standard glasses. They are commonly used for serving coffee, tea, and other hot or cold beverages, and are often appreciated for their sleek and modern appearance.
In addition to their functional benefits, double wall glass cups can also be visually appealing, as the design allows for a floating effect of the liquid inside. Some models are even shaped in a way that enhances the drinking experience, such as glasses with a curved rim that directs the flow of liquid towards the front of the mouth.
Since there is some air in that gap, the pressure must be balanced to prevent it exploding. To do so, there is a tiny hole somewhere under the glass it is hardly visible silicon plug. This tiny hole helps air be flowed easily when pressure changed.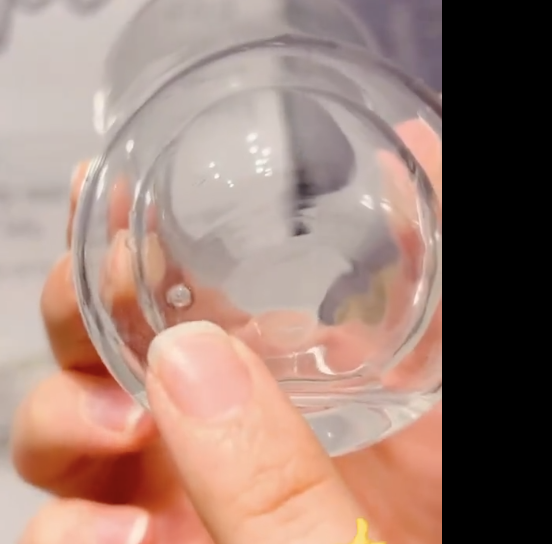 When the glass is washed in the dishwasher over a temperature this tiny hole can change the size a bit, with the pressure (due to hot water and the steam in the dishwasher) some dirty water can flow into that gap. You could prevent this by heating the glass more than the degree you wash but that would make the washing more complex 🙂
An easy way to flush it out is to increase the pressure in that gap while the water is closing that hole. The air will follow the Boyle's law, meaning it will flow from high pressure (inside) to low pressure (outside)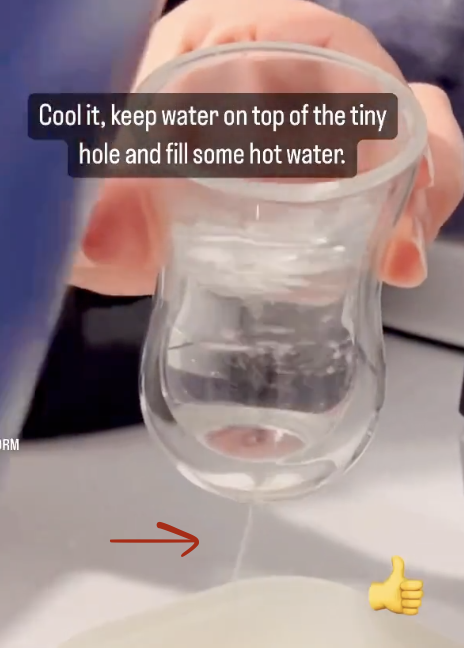 Of course you will never be able to get all the water out. There will always be some and you may see steam when you fill it with hot water. Doing this in a colder area helps you to get more water out but doing in room temperature (~20º) should be enough for non-obsesseds.
Watch this video I filmed for that hack